Clip Art and Vector Stock by Me!
Most of the pictures in this gallery are small jpeg samples of vector illustrations- I've improved over the past year, though they still take me forever! For those of you unfamiliar with vector illustrations, their major advantage is they can be infinitely expanded with no pixelation or fuzziness. Geeky-FYI- Vectors use mathematical coordinates to plot curves, lines, etcetera, ergo artus infinitum. (Yeah, yeah, I made up the Latin part, but not the factoid!)
The pattern samples in this gallery have been cropped a tad- so no mean internet vector-predators steal them!- but the originals align perfectly- when used as web page backgrounds one small tile repeats and lines up next to the next for a big seamless wallpaper. It took a while to figure THOSE out!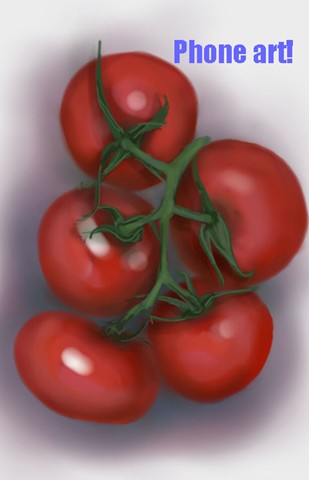 There are a few raster illustrations at the end. I like the process of drawing those much better, but they're not as sale-able as vectors. The tomatoes to the right were drawn on my leeetlle teeeny Droid Incredible screen- I didn't even know that was possible! Also, at the very end of the gallery are a few other pieces I did on my phone using my new favorite app, Autodesk Sketchbook Mobile Pro, the only app I ever paid for! Jesse got me a stylus at Target and I'm completely in love with phone doodling. It almost makes sitting around the dentist's waiting room fun! The app is worth ten times the measly two bucks they charge for it, FYI, and all the reviewers I've read have loved the desktop/ tablet version, too. Be careful, though- it's extremely addictive! Don't forget to get a stylus!
Hope you like the pictures! LInks to my portfolio at a few of my favorite microstock sites are on the bottom of page, for further perusal or purchase. Enjoy!
Don't forget-
-if you make digital art, you can make some extra money with it... check out my tips page to read more about it, or follow one of the links on this page and look for Contributors or Artists Info. Microstock is going to be paying for my next Nikon (not THIS month! but soon-ish!), and it's not a full-time job for me, so- think about it!
Gallery of (mostly vector) Illustrations