Betsy's Best Beading Tips Ever
1- "Bead bits"- The first thing I do when I get new beads, which is more often than I like to admit, is to take a few out of the package, string them on some of my wonder wire (see #3), and twist them into a loop. If I bought them online, I jot down the company name, color and/or item # on a little piece of index card, or cut the line out of the invoice that was in the box, and tape it to the bead loop. If I got them from a catalog, I cut the picture of them out of it, and tape them right next to the item #. This makes re-ordering much faster and easier. If I got them from a B&M (Brick & Mortar or "real world" store), I write that down instead.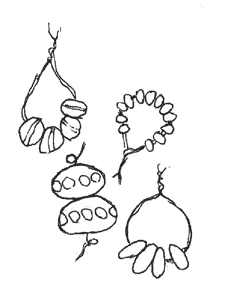 I keep all my "bead bits" together in one small Tupperware container. When I am planning a project, I dump them all out on a white surface- a tray or, if it's a night-time-couch-beading session, sometimes just a pillowcase in my lap. (Though that's probably the time they most need to be on a tray!!) I can mix them up, trying different combinations, holding them next to each other or my focal beads/dividers, until I get it just right. It's a lot more efficient- and neater- than pulling out individual packages every time, plus, you don't always remember every bead you have, and I find this method very stimulating creatively.
The other big plus to keeping samples on hand is obvious when you need something. If I decide that a particular piece is in need of, say, e-beads to balance out the bigger beads, and I don't have a color that goes well with the project, I can easily take "bead bits" of what I'm already using to the store with me and hold them up alongside potential matches.
As a adjunct, if I purchase something that I decide to return, I write that information down, too, and the reason, so I don't make the same mistake again.
2- Foam craft sheets- You can cut them out in any shape you like and glue them in layers to make your own beading project trays. For seed beads, one layer is sufficient, but for bigger beads, I cut a second layer & set it back from the edge of the first, gluing it on top in a kind of stair-step configuration to create deeper channels.
3- This stuff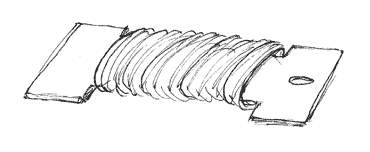 It's 28g wire. You can get it at a hardware store for about $3. It comes in brass or steel, on a spool of about a bajillion yards, which will last you forever, and it has a million uses. For me, it's most important use is for a "first draft" stringing of bracelets and necklaces. I sometimes think that maybe I just enjoy making the same thing five times in a row, I do it so often. As much as I try to plan and lay stuff out ahead of time, sometimes I finish something and realized that I don't like the balance or the order of the stones. Even more often, something is uneven, because I use a lot of odd-shaped stones, and do a lot of multiple-strand pieces. Wire is the easiest bead-stringing support I can imagine, and the small amount of time I spend moving the final copy from this wire to tigertail or monofilament is nothing compared to the amount of time I save using it instead of something else for trial runs.
4- Tape, all sorts of tape...I use wide, clear packing tape - the kind that goes in a professional box-taping gun- as a support surface for restringing jewelry or organizing the "first draft" of a new piece. I tape the tape down, sticky side up, to a styrofoam tray or a piece of card stock. Then I put whatever needs to be restrung down on the tape and pull the string out, slowly and carefully, then press down on everything by hand to make sure it's all stuck. You can pull individual beads to swap out, or do anything else you like, but you've got it all safely in order. If you have to put it down in the midst of reconstruction, you won't "lose your place". The packing tape is fairly innocuous as far as leaving adhesive on your beads, as long as you don't leave it on more than a couple of weeks. I left a piece on for a couple of months, once, and even though it was sticky, the adhesive wasn't difficult to get off. I wouldn't recommend taking the risk, though, maybe it was just the roll I was using at the time.
Scotch tape as a temporary stopper on the end of string or wire. 'Nuff said.
Scotch tape is also great for picking up dropped beads and/or getting them out of crevasses where you can't reach. I also read a tip once from a woman who used her lint roller to collect loose seed beads from the floor, which sounds like a great idea. I'd love to give her credit, if I knew who she was!
5- Styrofoam meat trays- another object with multiple uses. Wash them well with dish soap after removing their burden, rinse well, and dry. (If you're a vegetarian, they're also used to package day-old marked-down fruits and veggies, and sometimes you see unshelled peanuts packed on them.)
Their most popular craft use, of course, is as paint-mixing trays, but their most common job around here is as individual stringing trays. I often have more than one work in progress at a time, and these are great, easily portable organizing trays. In conjunction with the packing tape method mentioned below, they're absolutely invaluable to me.
6- Call me paranoid, but I don't trust crimps. I've seen cable slide through tightened crimps before, and I don't want to gamble all the time and care I've spent on a piece on that possibility. Don't get me wrong, I use them all the time, I just like a little insurance. When I use tigertail- which is almost always- I either double-string with monofilament, use monofilament at the crimp, put a drop of superglue on the crimp, or a combination of those techniques. For heavier pieces, I double-string with 20-lb. test (fishing line). When pinched into the crimp with the tigertail, the monofilament acts as a kind of caulk, holding the whole thing together. It also acts to fill out the "corners" of the crimp when it's pinched, preventing it from bending so acutely as to weaken the metal. If I'm using beads whose hole is too small for doubling to be practical, I just slide a piece of monofilament through the crimp before closing it, then snip it off on either side, leaving the tigertail alone. In either case, or if I'm using extremely light beads, I often put a drop of cyanoacrylate glue on an already-closed crimp, holding it up by the loose end of tigertail, or the finishing clasp, and letting the glue slide down into the nooks and crannies.
7- Organize your supplies!!! Use any system that makes sense to you, but keep track of what method you are using. One of my most important tools is the small sketchpad I keep in my work area. Along with sketching out ideas and planning pieces, I map out pieces that were successful, so I can repeat them more easily, keep a running list on the back page of all those "I wish I had..." moments that I have when making things, and I have a section called "Where I put it".
I don't even want to think about the number of items I've had to purchase twice because when I needed the first one, I had no idea where it was. In one of the great failings of my life, I've been unable to limit myself to one hobby, so materials from one kind of project often end up in the storage area for a different kind. When I put something away, where I put it makes absolute sense to me. "Let's see... these foam craft sheets are great for making rubber stamps, so I'll put them with my inks..." Then when I need a foam craft sheet, I'm thinking, "Hmmm... foam craft sheets... well, it's flat, so it should be with my craft papers and plastic album pages..." I've wasted a lot of time looking for stuff that way. Now, when I put anything away that doesn't fit neatly into "Beads", or "Paint", or some other really simple category, I WRITE IT DOWN! It sounds so simple, but it's made a huge difference to me.
Otherwise, use whatever tools you need to "craft" a storage system that makes sense for you. (Do your wallet and the planet a favor at the same time- avoid the dollar stores and get containers at yard-sales and thrift shops.) I love baskets, myself. They look so much nicer on the shelf than plastic boxes. You could also use recycled cardboard boxes wall-papered with gift-wrap, or spray-painted.
My system breaks down like this:
Separate boxes for:
Wire
Cord and string
Hardware and components
Separate tiny drawers in a hardware/electronics cabinet:
e-beads, rocailles, bugle beads, gemstones, pearls, crystal, clear, black, silver, gold
Large box with smaller compartments for larger beads separated by color
Small portable container for bead bits
Picnic basket for empty containers I can recycle:
Prescription drug bottles, empty bead tubes, a ziplock bag filled with ziplock bags! Some small wooden boxes, Altoid tins
Toolbox
Enjoy!
by Betsy Baranski
at www.9and3quarters.com
web page © 2010-2015 by Betsy B