Mrs. B's Photo Tips:
The Kids' List
1- Don't say cheese- Photos of people doing things are sometimes more interesting than a posed smiling picture. A group shot is better with fewer people in it.
2- Light, Light, Light- Try to keep the sun behind you or to one side if you are outside, or stay about 6 feet away from your subject if you are using a flash. Make sure your subject takes up more than 50% of the frame; that's how most cameras choose what light to use. Landscapes are much more interesting early in the day or late, with "sideways sun". Noontime sun is boring.
3- Move your feet- Get closer to your subject- or further away. Try not to take pictures through a window, especially on sunny days.
4- It's NOT a target ! NO heads in the middle of the frame!! Or else!!!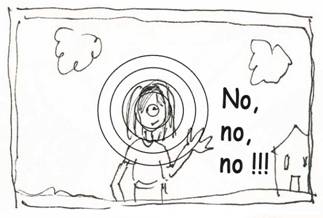 5- Hand it over- Trade cameras with a friend and take a few shots of each other, so you have some of yourself on your own roll of film. If you have a disposable camera, put a sticker on it, or write your name with a marker, so you know which one it is.
6- Fit the frame- Tip your camera on end if your subject is taller than it is wide.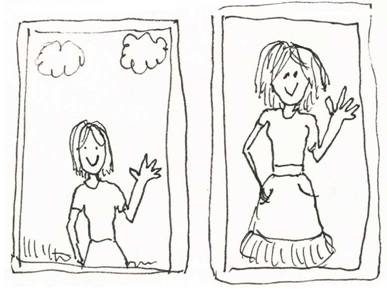 7- Take LOTS & LOTS of pictures, especially if you have a digital. Professional photographers only use one or two pictures out of every roll (36 pics) they take- they know that it takes a lot of pictures to get that prize photo.
8- Have fun!
Part 2- Mrs. B's Photo Tips for Grown-Ups
(Read the kids' list first, grown-ups!)
8- LEARN TO USE YOUR CAMERA- Most digital point-and-shoots have quite a few useful tools on them, if you bother to figure them out! Take the camera out when you have a free hour and play around- see if your camera has a macro or close-up function and try to take a few flower pictures, or, even better, the salt and pepper shakers. Or take a shot at a tree or building with the sun directly behind it. See if you can get details of the building to stand out, or if you just like the silhouette. Play!
9- Selling on ebay? You better learn to use that camera! First, go get a cheap tripod. Then, after you ignore that advice, build yourself a light tent. If you are selling anything small at all, you NEED this! It doesn't have to be fancy, unless you want fancy, or you are married to an engineer, in which case you have no choice!
You only need some kind of support system, a couple of lights, and a sheer curtain. You can use two chair backs a couple of feet apart, or a simple string tied from one doorknob to another. Whatever you have, lay a light-colored sheet down on the floor and set your "tent" up over it. If you can put it near a window, do that. Then, if you have them, put a desk lamp or two- office supply stores sell them for $5-10 each- on different sides of your tent, outside the curtain. If you don't have desk lamps, any old lamp will do. Take the lampshades off.
Now- you set up the item you are selling on the sheet, under the curtain. Turn the lights on, so now you will have at least TWO different light sources coming from two different directions, maybe 3. (The sun and one or two lamps, or just 2 lamps, whatever...) You sit on the floor with most of you outside the curtain, not in front of any lights, and your head & camera, and, hopefully, tripod inside.
Set your camera up to use NO FLASH, and shoot away. Try different angles. Try moving the item you are selling. Put items that look good together in the same photo. Do NOT underestimate the power of a good photo!
10- Go back to the kids' tips and reread numbers 2, 3, and 4...
The little circle in the middle of the viewfinder in your camera is, depending on your settings, sometimes where the camera decides how to focus. It is NOT a target!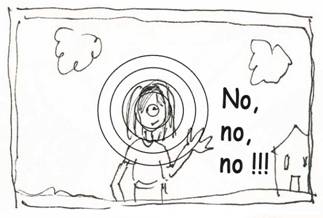 No one's head needs to be in that circle if their belly button is the same distance away from you!!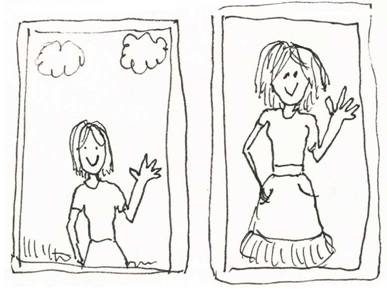 Fill the frame with your subject, unless there's a UFO up there, or you're in the Sistine Chapel.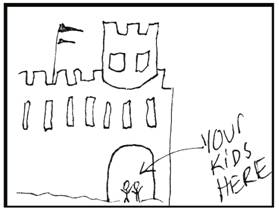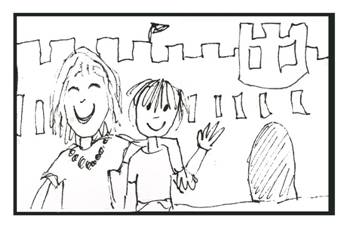 Ten years from now, which one of those would you rather see in your photo album? The first one is a really nice picture of Dracula's castle, but in the next, you'll be able to tell that little Billy really needed a haircut and Sharon was laughing so hard her eyes were closed!
11- Get down on their level! You'll get a much better photo of little Billy- or little Bowser- if you're both at the same altitude...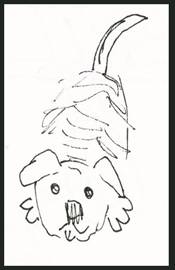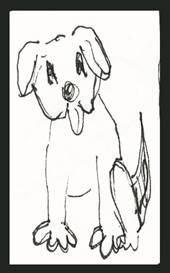 12- And, just in case you didn't read the kids list... I'll repeat the most important part...
Take a lot of pictures!
Professional photographers throw away 80% of their photos- it takes practice to be able to take a good picture, but it takes luck, too, to make a great one.
ENJOY!
I hope you find these tips useful... please link back to me if you re-distribute.
This work is licensed under a
Creative Commons Attribution-NonCommercial 3.0 Unported License
.