Sketches and Reference
References used for Klimt digital painting- the last sketch is mine, remainder are Klimt.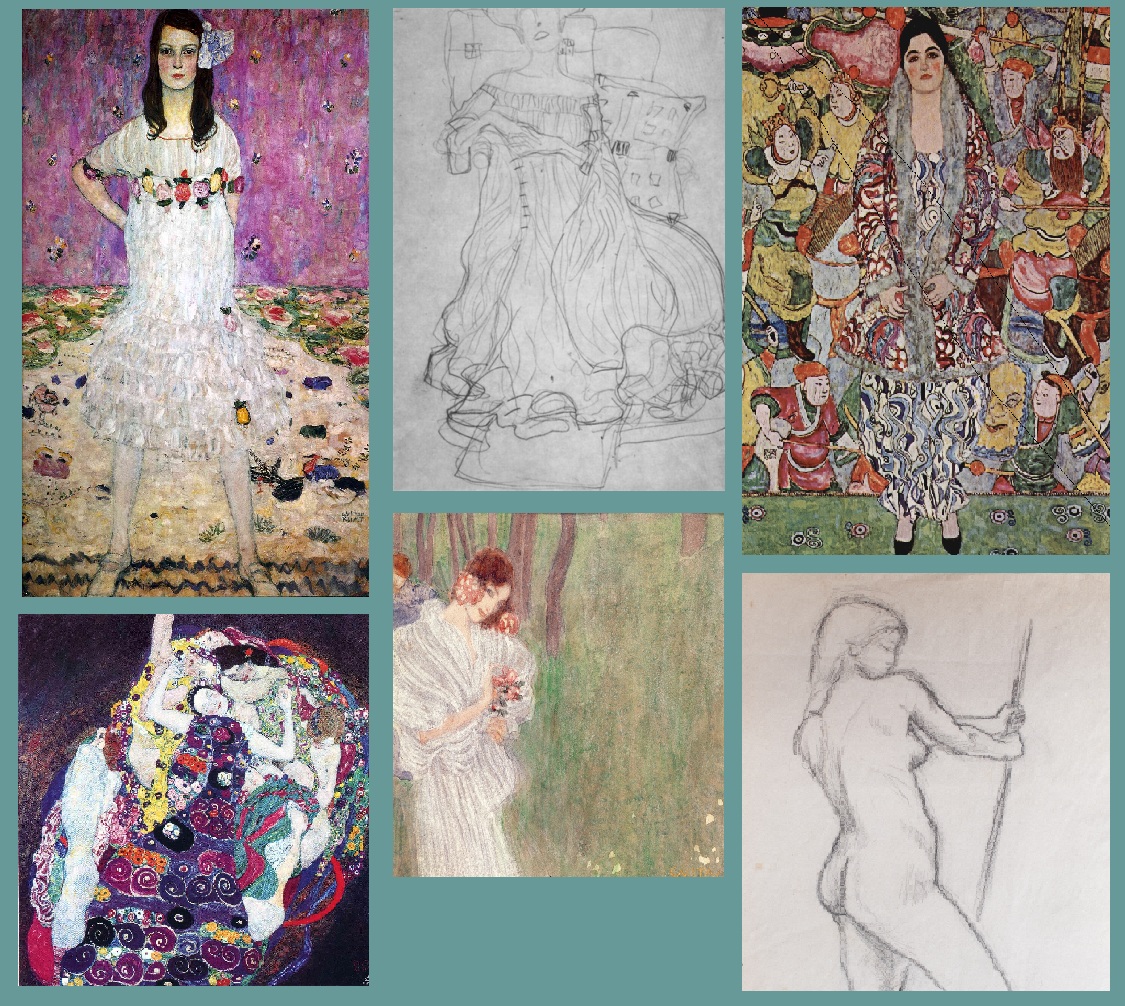 Details
"My Leda", shown at page bottom, was an attempt to recreate " theme, subject matter, composition, color, style, and mood" of Gustav Klimt's paintings, for a contest at Worth1000, a great site for anyone with any creative impulse. Below are some details of aspects of Klimt's work that I was trying to duplicate on left, my tribute on right.
Below, left- Detail of The Virgin showing typically pale-skinned Klimt women, with dark, delicate outline, and high-contrast cheek and hair coloration. His media, mostly gouche and crayon on paper for this painting, give the women's skin a somewhat mottled appearance on close inspection. Below, right, detail of My Leda. I love how the brush strokes on the swan came out, and I like Leda's hair, too.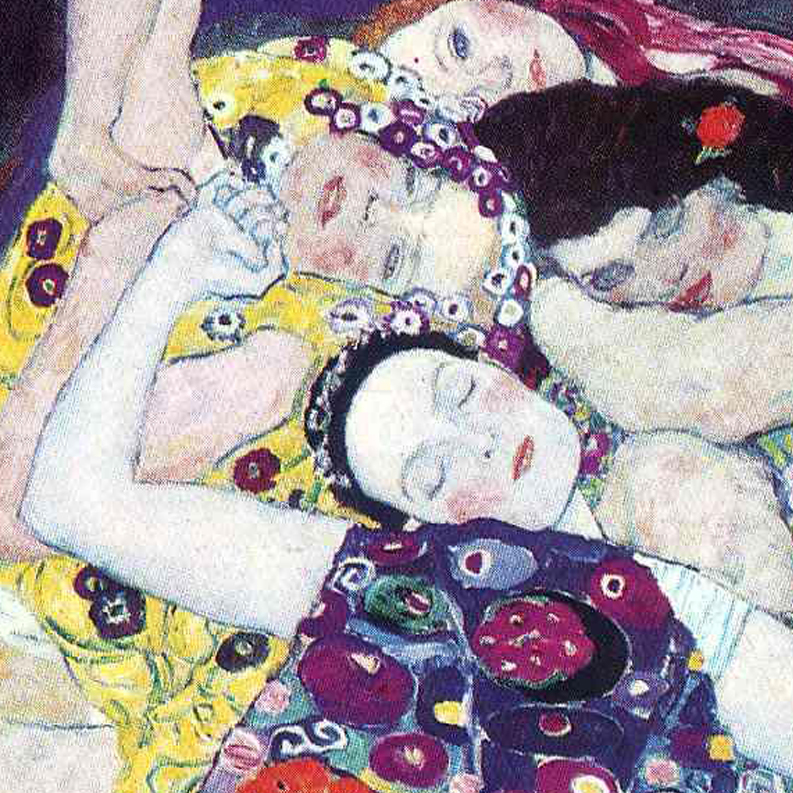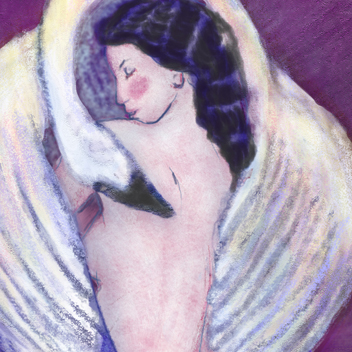 At left is another detail of Klimt's The Virgin, showing more white skin, and a portion of the decorated blankets that surround the women. I was interested especially in trying to replicate the crayon texture with built-in Photoshop brushes, and I'm fairly happy with my results, at right.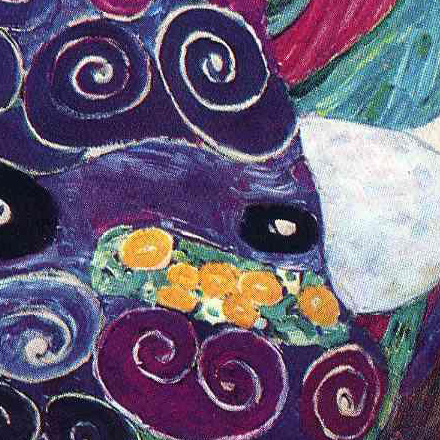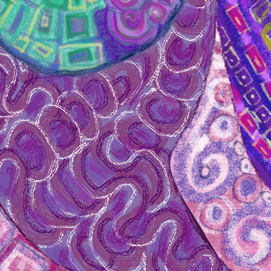 Klimt's background's varied widely, depending on his medium, from his classic assymetrical placement on the blocky background of mosaic that we're all familiar with in works like The Kiss and Portrait of Adele Bloch, below, to the again-mottled texturing of his works on paper, shown in the group at the top of this page. In some of his works, like waaaay up at the top right, the background reminds me of Van Gogh's oriental-inspired works.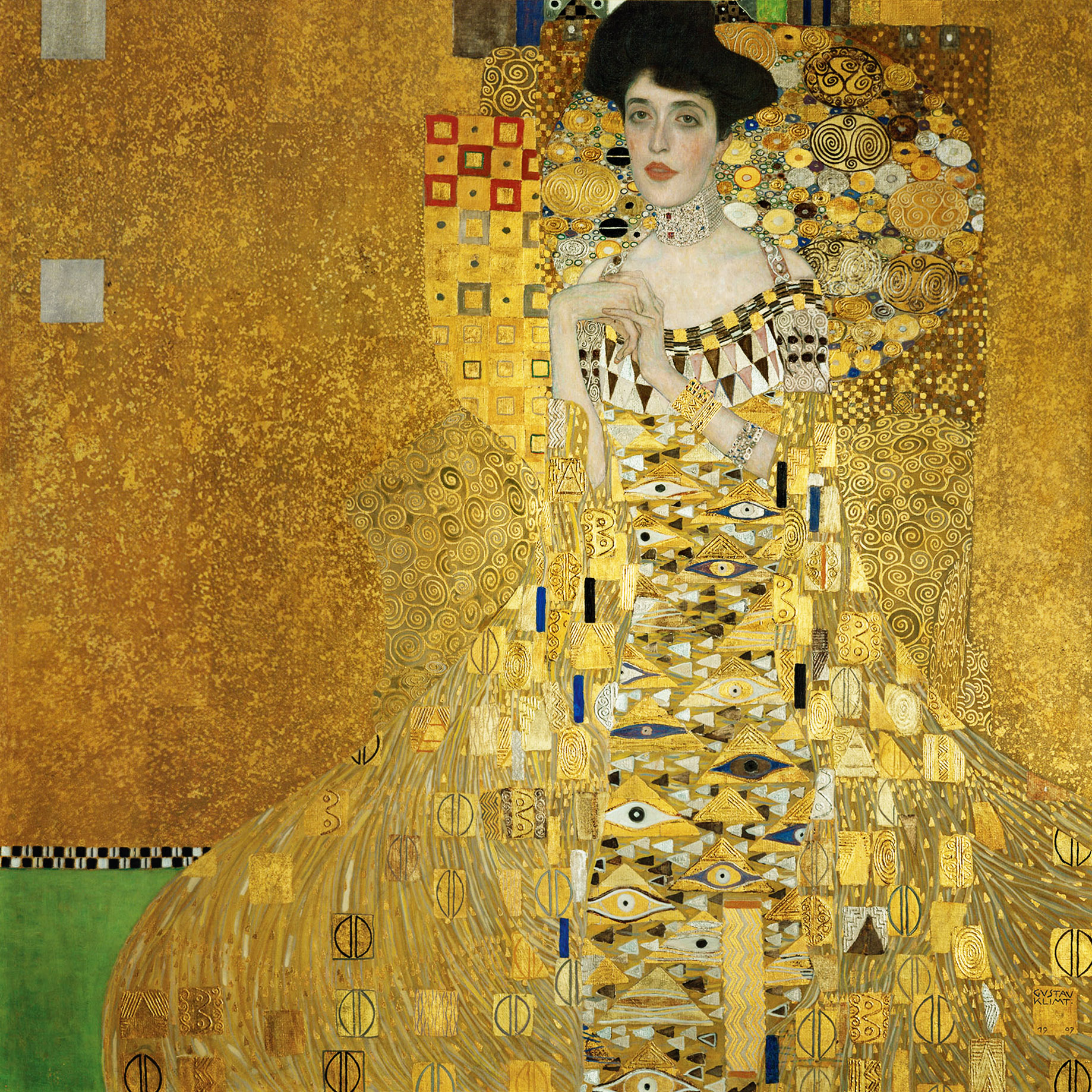 I chose a mosaic-like blocky background- detail at left- because it's SO Klimt! I used one of Photoshop's square checkered brushes, and added a sandstone textured effects filter on a couple of layers. At right below is an area nearer the top of My Leda, where I used layers and layers of brush strokes in different shades and tones of violet, and a few of PS's big dotted brushes, set mostly at 20-30 percent flow and opacity. In the final work, this is the part of the painting that appears most "painterly" to me.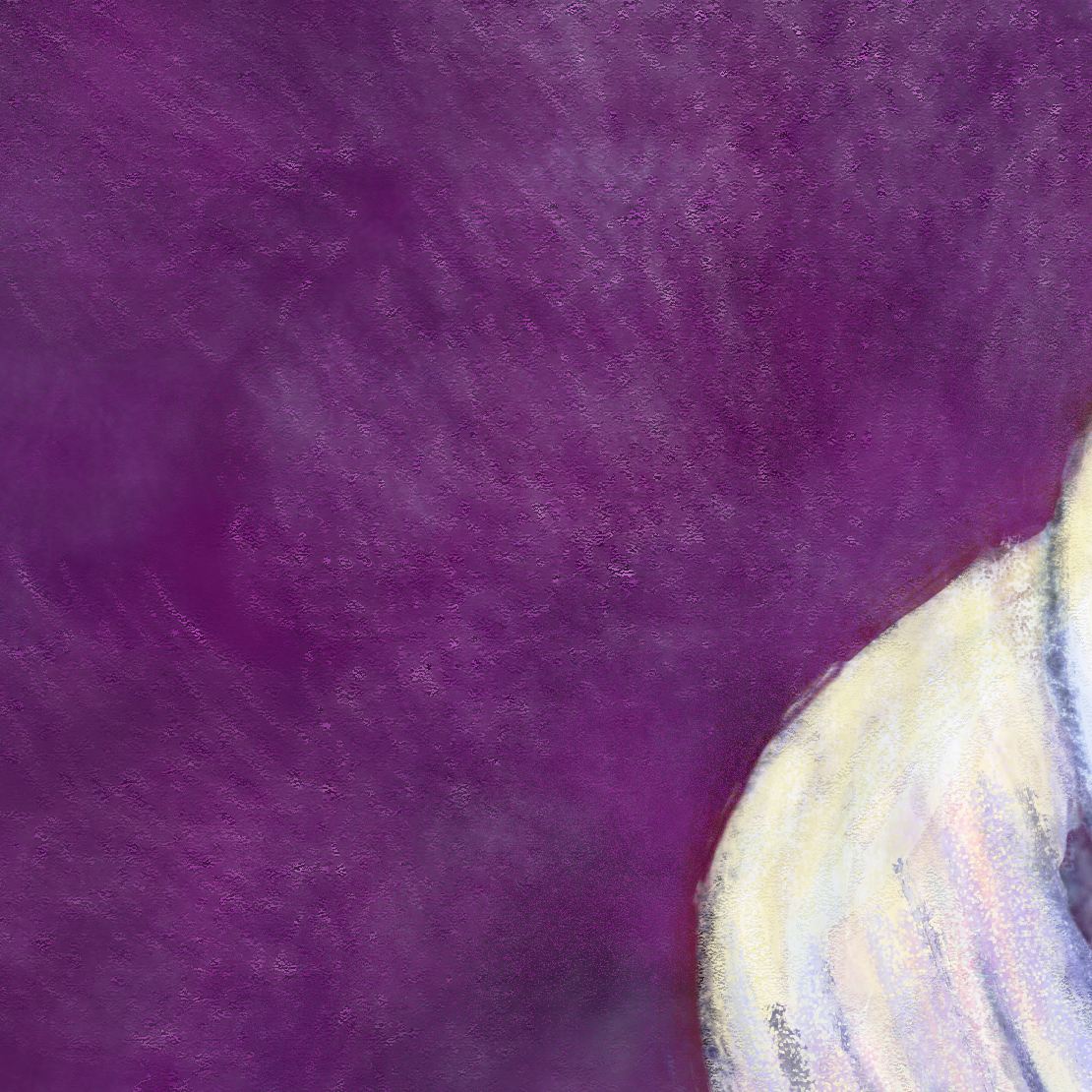 Below is the version submitted to the contest. I wish I could say "finished version", but I don't think I can resist going back to it. I'm happy with the swan and mostly with Leda, but I'd like the drapery to feel looser and more organic, that being a hallmark of Klimt's work, also. If you right-click on it and View Image, you can see a larger version.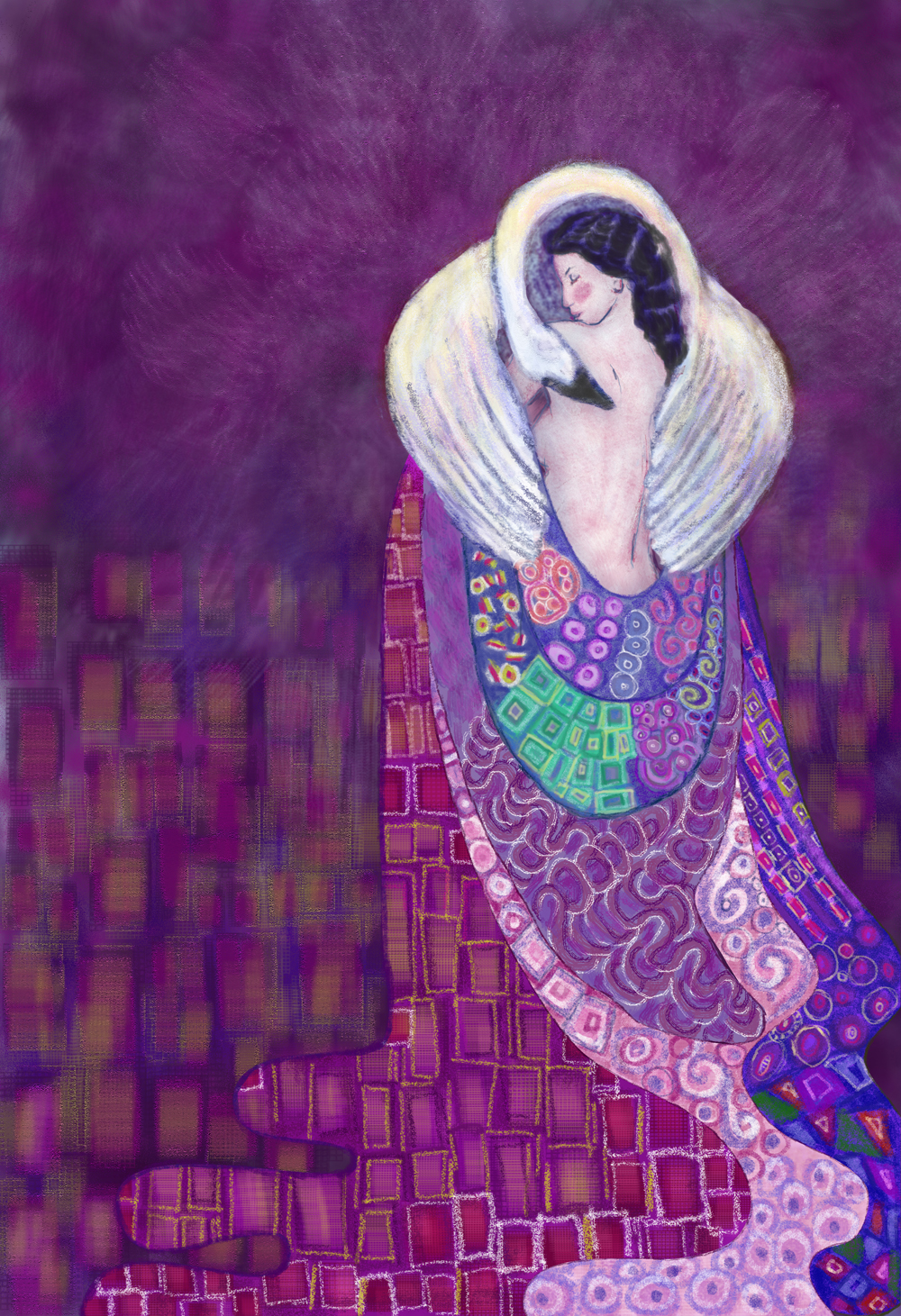 It drives me crazy-
-when I read any kind of article accompanying artwork only to find it doesn't say HOW! American Art magazine does that to me all the time! Since it took me so long to figure out how to get the effects I was looking for, I am including a list of HOW! Hope it's helpful!
Mesh brushes for the squares, layered smaller and lighter over larger and darker
Heavy smear wax crayon, set at 6 px, worked good for the crayon lines
Rough ink brush, leave on 39 px, set at 40 opa, 25 flow- for a lot of the brushwork
I also used the spatter 39px a lot on this.
I always get the results I like best when I use many, many layers- the brushwork behind the swan is six or eight layers, and the swan was at least five. I hated running out of time on this one for the Worth1000 Contest!
And- don't forget- you could be getting paid for your art!
See the microstock articles on my Tips page, or check out one of the links below!
Thanks
Thanks to the Klimt Museum online, which has a huge collection of his work displayed for our viewing pleasure, including drawings! Also to this page at Canvaz for the exhaustive, but unatributed article on Klimt's work. Actually, I'd like to thank the unknown Klimt scholar from whom the article was cribbed, whoever you are!
A few of my favorite microstock sites