Burning Steel Wool
I've been shooting lights at night for fun, starting with sparklers, then trying LEDs and light painting. After my initial sparkler experiments, I started browsing other photographers' work online, looking for ideas. The sparklers were a dead-end online. Not to be snobbish, but I think the work I did was better than most of the "Look-I-drew-a-heart" stuff on flickr, though I do want to try an orb effect over water. Where's a puddle when you need one?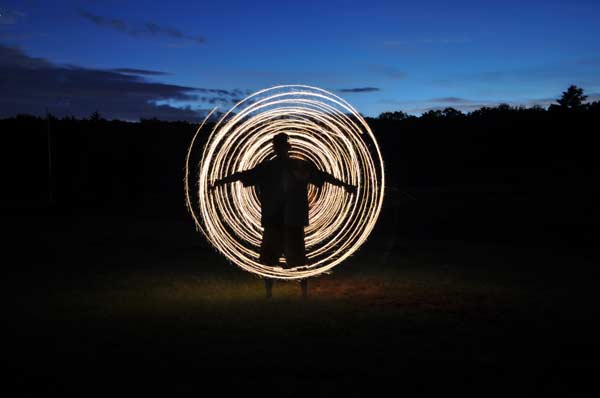 While looking at long-exposure shots, though, I saw some that looked like the photographer had used seriously amped-up sparklers. As I'd also located a recipe for make-your-own sparklers, I planned on trying to acheive the turbo shower-of-sparks effect the same way. Before I got around to that, though, I discovered Fred Miller's thread on the NYC Aviation website, and the key to the effect- burning steel wool.
After reading the thread at warp speed, I googled "burning steel wool". THEN I went to the hardware store. Well, okay, it was a slightly slower cause-and-effect process, but I did immediately send Fred's thread to my sons, hoping for some enthusiam when I enlisted them as photographic assistants and steel-wool-swingers.
Fred made several suggestions in his very complete list of ingredients and instructions, not all of which I heeded. I already had some techniques in the bag from my extensive sparkler experience, so I didn't feel the need to use the camera strap or the 9-volt battery. I did invest in some charcoal-lighter-fluid while I was at ACE, but later decided that was probably unnecessary, too. Basically, all you need is steel wool, string, a lighter, and a small whisk from a yard sale, Job Lot, or the dollar store. And WATER, lots of water...
Fred very sensibly began his tutorial with a warning about fire hazards. I, being the kind of person who ignores the "test on an inconspicuous place" warning on her box of hair color, gave little thought to this, either. I figured it was sparks, you know? Big deal, I'd been swinging sparklers around for a couple of years with no problem. Thank GOD it had been raining for several days prior to the night we picked to burn steel wool for the first time, or I would have been in real trouble.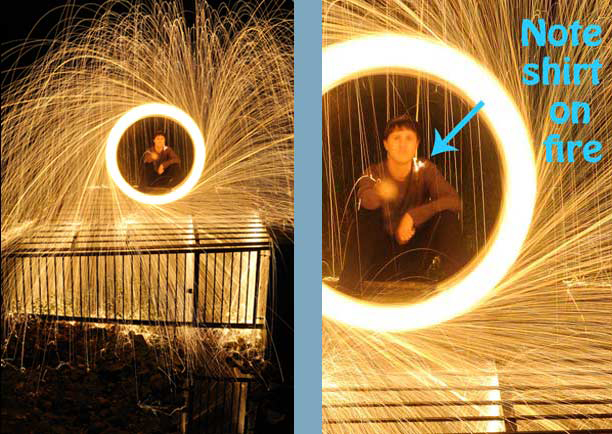 Steel wool is NOT like sparklers. It looks all fluffy and harmless, but when lit on fire and swung through the air, this is BURNING METAL. It throws the same kind of slag as cutting with an acetylene torch- welding itself into a burning hunk that burns FOREVER and is difficult to put out. If a "spark" lands on you, it's so hot that it basically melts your skin, burrowing a tiny little track into your flesh. It is NOT like sparklers. ONLY try this in a LARGE paved area- the sparks fly a long way and they will rebound off hard surfaces and right back onto you. (Note my son's shirt on fire. I joke around, but this could have been a lot worse. We're idiots- the kind of people for whom warning labels are written: "Do not eat the hemorrhoid cream". Learn from our mistake!)
Having said that...
Jesse and I scoped out some likely spots that afternoon, looking for places we thought would create good reflections or silhouettes- I'd really liked the effect of sparklers shot through iron bars, and hadn't explored it thoroughly on "film". So that night we took my gear and hiked down to the waterfall near our house. I set up the tripod and Jesse swung an LED around to test my focus and in-camera framing. (One of the few parts of shooting at night I dislike; I really want a giant spotlight.) Then we drizzled some charcoal lighter on the steel wool, Jesse ran back up the slope, and we fired it up. Literally.
Oh... My... God.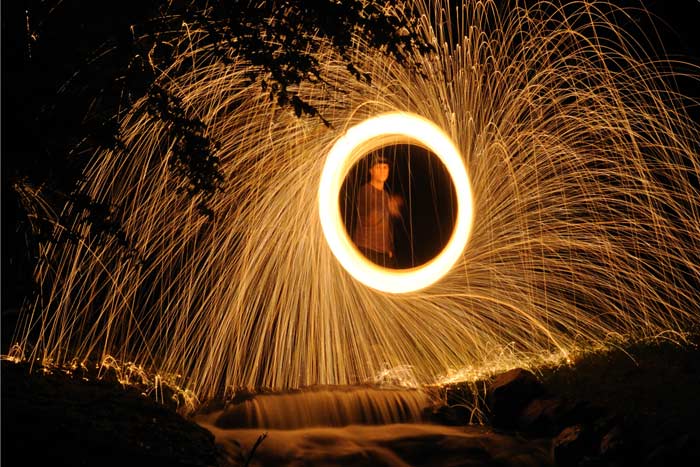 Jesse is agile and athletic and it took him only SECONDS to run back down after the shot was complete, enough time for me to see it first. I looked at it again with him. Still... Oh... My... God.... I said, "Jesse, that's it, we can go home now, I don't have to take any more pictures." He laughed and replied, "Yeah, but I still want one on the grate" (another setting we'd scoped). I said, "No, you don't understand, I can quit taking pictures altogether. Forever. It doesn't get any better than this!"
Nonetheless... I needed to adjust my exposures. With sparklers and LEDs, I'd been shooting 25-30 second exposures at ISO 400 with a larger aperture than I wanted. I don't like going higher than ISO 400, a hangover from shooting on ISO 1200 film when it was newish and extremely grainy. I realize, from comparing shots on DP Review's camera comparison page (I love that thing), that my ISO-inhibition is unnecessarily restrictive, but I'm shooting on an APC-sized sensor, too, further freaking me out. Anyway, I don't like shooting at higher than ISO 400, so I lose out on depth of field and some focal sharpness in my night shots. It's a trade. Whatever.
(Yes, I KNOW I digress!)
SO... Steel wool burns MUCH hotter than sparklers, throwing way more light. Over the course of the 10 shots I took, I stopped down and sped up, ending at f/13 for 13 seconds at ISO 400, and next time I think I'll stop down even more.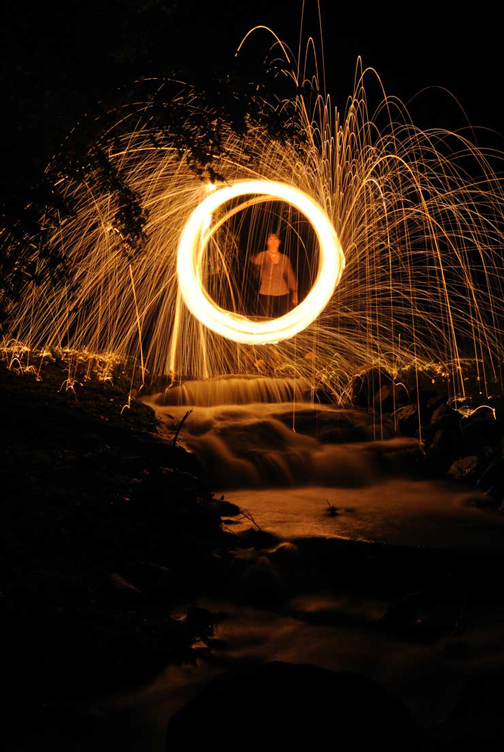 Also unlike the sparklers, which will burn for at LEAST 30 seconds, the steel wool is finished in about 10 seconds, leaving the model standing there spinning for an additional fruitless quarter of a minute, which seems like forever when you're perched on a rock in the middle of a rushing stream in total blackness.
Days later...
After writing the above narrative, I decided I should go about this in a more scientific manner, and conducted some tests to determine what works the best. (I was viciously jealous of Jesse's beautiful, plentiful, fine sparks!)
Here are the supplies I used: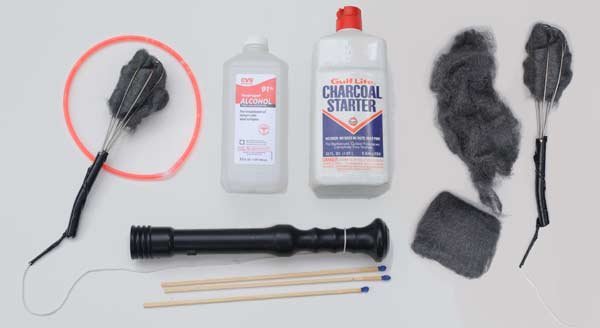 Charcoal starter fluid
91 percent Isopropryl alcohol- available at your local pharmacy for a couple of dollars- my son Scout's suggestion as an alternate flamable fluid.
The glow necklace is what I used to mark the spot where I should stand, on which my lens was focused. Because it was in the water of the puddle in which I stood and because the steel wool threw off so many sparks, the necklace was invisible in all but one of the photos.
4/0 steel wool, AKA #0000 grade steel wool. The steel wool is shown in it's original pad form, unrolled, and stuffed in the whisk.
The whisk is tied and taped to a string, which is tied to a hollow black plastic handle with a slip-knot, so it revolves smoothly. The handle is an innovation that I fashioned for this shoot, thinking that it would be easier than winding the string around my hand every time, as we'd been doing. I was right- it was easier, though you do sacrifice a little bit of control.
The tutorial I read suggested lighting the steel wool with a 9-volt battery, but, since it also cautioned the reader to keep the steel wool and battery far apart to prevent accidental enlightenment, I thought I'd stay away from that method. And, uh, I actually used a neon green disposable lighter, but the matches are prettier!

MOST IMPORTANTLY:


Not shown- a bucket of water. For two reasons- just in case AND, like taking a pan off the stove, the leftover chunk of steel wool stays dangerously hot for a LONG time. Drop the whisk in the bucket while you go reset your camera, or check out the photo- it's the only way you'll be able to remove the detritus and reload for the next shot within a reasonable amount of time.


AND


A PARKING LOT. If you try this, do it in a paved area with NOTHING AROUND and no wind to take the sparks. In the test shots below, you can see that I'm standing in water, but you may also see leaves at the edge of the puddle. After learning the hard way on the first try, when I shot these it was STILL RAINING, had been raining for days, and I STILL had a hose and a bucket of water!
Nuff said! On to the pictures!
All the photos below were shot with a Nikon D3000 set at ISO 400 (the D5000 is in the shop), with a kit lens wearing a clear filter. They were all converted from RAW to JPG with Nikon ViewNX2 on default settings, cropped in CS4 to the same degree, and compressed as a batch, in order to illustrate results consistently. I'm sure they'd look better if I'd converted them manually, playing around with settings, but I was testing techniques, not showing off results. Detail shots at right have all been enlarged to the same degree, as well.
Here's what I learned from my tests:
Burning Steel Wool, Part II
Test shots in order

Exposure

Photo Detail

Conclusions

20 seconds
f.16
White balance set for direct sunlight
No fluid
Steel wool unwound,
stuffed tightly
into whisk

Unrolled bundle
of steel wool after first try (not shown)
Burned better with wool unrolled
Seems like sparks
peaked early, though.

20 seconds
f.16
White balance set for direct sunlight
No fluid
Steel wool unwound, few pieces sticking out of whisk

Spun more slowly
Seemed to burn slightly better
Pulled some wisps of steel wool out of the wire wisk cage.

20 seconds
f.16
White balance set for direct sunlight
No fluid
Steel wool unwound, few pieces sticking out of whisk

During a couple
of shots, I swung
too low and dipped the whisk in the puddle, which
explains why some
of the shots
I left out are so UN-sparkly.

20 seconds
f.16
White balance set for direct sunlight
TOO MUCH lighter fluid
Steel wool unrolled, stuffed in any which way

WAY too much lighter fluid, hardly any sparks, mostly a big flaming circle
Tried again with less fluid, spinning faster.

20 seconds
f.16
White balance set for direct sunlight
Very little lighter fluid
Steel wool really pulled apart, pulled way out of whisk

EXCELLENT,
tons of sparks!
Really pulled steel wool apart

20 seconds
f.16
White balance set for direct sunlight
Rubbing alcohol
Steel wool really pulled apart, pulled way out of whisk

Spun fast-
excellent sparks!

20 seconds
f.22
White balance set to cloudy
Rubbing alcohol
Steel wool really pulled apart, pulled way out of whisk

Lotta sparks
Too much wool pulled
out, so big chunks went flying off
Stopped down
was much better
Burned out slightly before end of 20 seconds

20 seconds
f.22
White balance set to incandescent
Less rubbing alcohol
Steel wool pulled apart, only a bit pulled out

Did NOT work
Much too dark set
on incandescent and shot at only f.22- plus I think I hit the puddle again.


20 seconds
f.20
White balance set to incandescent
Little bit of rubbing alcohol
Steel wool pulled apart, tiny bit more pulled out

Didn't unwind
wool as much
Stopped up a bit

20 seconds
f.20
White balance set to incandescent
No fluid
Steel wool unwound,
sticking out
of whisk

This is my favorite
of the shoot!
The feathery shower of light trails defines serendipity.

15 seconds
f.20
White balance set to incandescent
No fluid
Steel wool unwound,
sticking out
of whisk

I really like the less
orange-saturated light trails when white balance is set to incandescent.

15 seconds
f.20
White balance set to incandescent
No fluid
Steel wool unwound,
sticking out
of whisk

This is the only
shot in which the
glow necklace is visible in the puddle- just between my feet. If the photo was a keeper, it would take less than a minute
to edit it out!

15 seconds
f.20
White balance set to incandescent
No fluid
Steel wool unwound,
sticking out
of whisk

20/20 -
20 seconds
at f.20-
works best!
Little or no accelerant
Unwind the wool
to get as much
air in thereas possible without leaving big chunks sticking out.
Spin it fast!
Conclusions
20 seconds is better than 15!
Be as accurate as possible matching your actions with the self-timer.
Don't wait to start spinning after you light the pad, if you get FLAMES
(rather than just the sizzling kinda sparks you get at first light) they stay FLAMES,
and you get a more prominent circle (vs. more emphasis on trails of sparks)
BUT try to time it so you start spinning as close as possible to the shutter opening,
it seems to throw the most sparks early in the burn.
I liked the rubbing alcohol better than the charcoal starter- it lit more quickly, and also burned up more quickly, leaving just the steel wool sparks. But, really, I thought no fluid at all produced the finest sparks.
In my not-supported-by-a-wealth-of-scientific-evidence opinion, there's still definitely an element of unpredictability, some serendipity enlisted in the final product.
I could go test some more, but I'm not going to!
A couple of other things I did find helpful:
The handle. To begin with, I wanted it so I could try the spirals we did with sparklers, but I gave up on that after the first try, feeling a definite lack of finesse. Not something you want to feel while spinning a big flaming ball of metal two feet from your face.
DO NOT DO THIS WITHOUT A HAT OR HOODED RAINCOAT. I'm not kidding! Your hair is VERY VERY flammable. Pull a strand out and see for yourself. If even a tiny ball of this falls on your head, you WILL go up in flames.
A staging area. Since it was still raining, and I was in my driveway, I set the tripod up in the back of my mini-SUV, and used the back seat to reload the whisk, etcetera.
An LED light stick- for test shots and for task lighting while reloading.
A tape recorder- I used the voice recorder on my cell phone to take notes in between shots, which would have been a lot harder to do with a pen and pad.
So...
I hope my fun with flames helps or inspires someone else out there!
Please feel free to e-me with questions, comments or tips of your own!
Betsy's TO TRY List
Have someone else spin so I can watch- see if my perception that sparks dissipate early is true.
Try 2 steel wool pads at once
Try opening up the -basket- of the whisk to a more rounded shape to allow for more air flow
Try winding wool differently through wisk wires, leaving more sticking out
Try NOT unwinding a pad, but leaving it sticking out at the sides
NEXT TIME- Fill flash with timed exposures
Thanks for visiting, linking, liking or any of that other cool geeky stuff!
&nbsp
I hope you find these tips useful... please link back to me if you re-distribute.
This work is licensed under a
Creative Commons Attribution-NonCommercial 3.0 Unported License
.