TablEasy - a quick new cure for the same old pain
&nbsp
I hate making HTML tables almost as much as I hate cross-browser coding.
Seriously, there's something about it that confuses the crap outa me, pardon my language. I think it's probably that I'm categorizing data in my head by column headings and grouping it by rows in HTML doesn't translate well.
Whatever the reason, making a table takes me a ridiculously long time. In order to expedite the process, I, uh... made a table! Yes, I know it sounds stupid, but it's based on the ubiquitous geek-ability to save documents in other formats. For instance, on my desktop I use Open Office, which I love, while on my trusty laptop here, I use MS Works (blech, blech, and double blech), because I'm too cheap to buy Word and my hard drive is too packed with pix to install Open Office. (I'll clean it soon, honest, I will.)

I use Works tables to organize photo data for Microstock agencies and keep track of which photos I've submitted to which agency, etcetera. (See tips pages on Microstock- coming soon-ish- for more info, if you're interested.) Other programs don't play well with Works wps files, however, so in order to use that data on my desktop, in Open Office, which is SOOOOO much better, I save (export) wps files to rich text format (.rtf) files, read-able by almost any word processing program. Occasionally I also "save as" a text-only file (txt) when I really need to cut-and-copy a lot of info fast (NOT selecting the whole darn cell...). In the process, I started to think about the way I write tables in HTML...
HTML tables
Just in case you forgot- I hate tables and am easily confused-
so I made a "template" text file to make things slightly more sensible for myself
(shown at right). I use the same system for creating every new web page:
In my root directory, I have a basic html file called "new.html" (well, technically the file extension is "php", but same diff, for our purposes...). "New.html" contains a standard head section, a couple of headings, a few fake (yada yada) paragraphs, and a footer, all properly formatted and closed. I have a "newsubpage.html" for down-one-level pages, also. It makes starting a new page simple, and, while I'm sure I didn't invent the idea, I thought it up for myself, so I can pretend I did.
Using that concept, I built the table template at right, naming it "tableformat.html".
If you'd like to see the plain-text file, click on the image, then, depending on your browser, right-click and select "view page source", or just cut-and-paste.
Having a table template seriously sped up my table-making by minimizing my confusion, reducing errors and the amount of time spent correcting them.
I'm still an American, though, and, desiring more instant gratification-for-my-buck, wanted to shave off some more cut-and-paste time. Ergo, another table... (Did I mention I HATE making tables?)
&nbsp
SO...
(yes, I KNOW I run on...) I made a table that looks sort of like this:
Table Template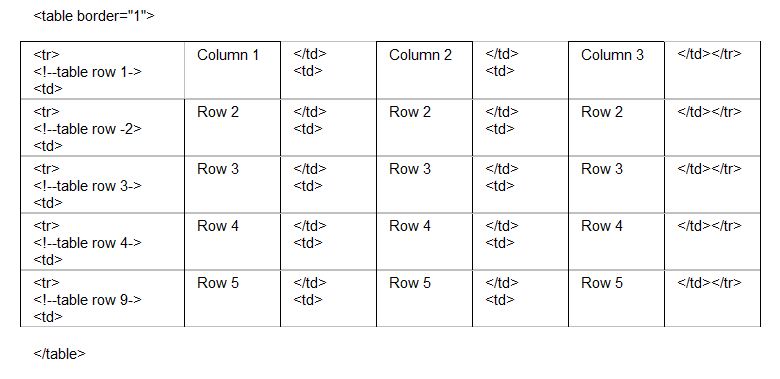 &nbsp
Thanks for visiting, linking, liking or any of that other cool geeky stuff!
&nbsp
I hope you find these tables useful... please link back to me if you re-distribute.
This work is licensed under a
Creative Commons Attribution-NonCommercial 3.0 Unported License
.
web page © 2010-2015 by Betsy B